Franchise Management System
Franchise Management System must replace all existing internal applications in order to manage the whole processes for a franchise company in a car rental industry.

.NET Core/ Angular / Bootstrap / PostrgeSQL
Our client is a well-established company in a car rental industy.
addCar is now a leading mid-sized international car rental company with locations all over Europe and in North America serving 35+ countries worldwide.
Our client managed all operations using 3-rd party software, PowerBI scripts and Excel sheets.
addCar reached out to Stantum in order to improve the flexibility, premium performance, and efficiency of their products and services. They aimed to automate processes related to installations and sales management. One of the crucial tasks was to analyze and visualize data from vehicle reservations and automate financial operations. The client wanted to minimize manual labor and ensure effective monitoring and reporting.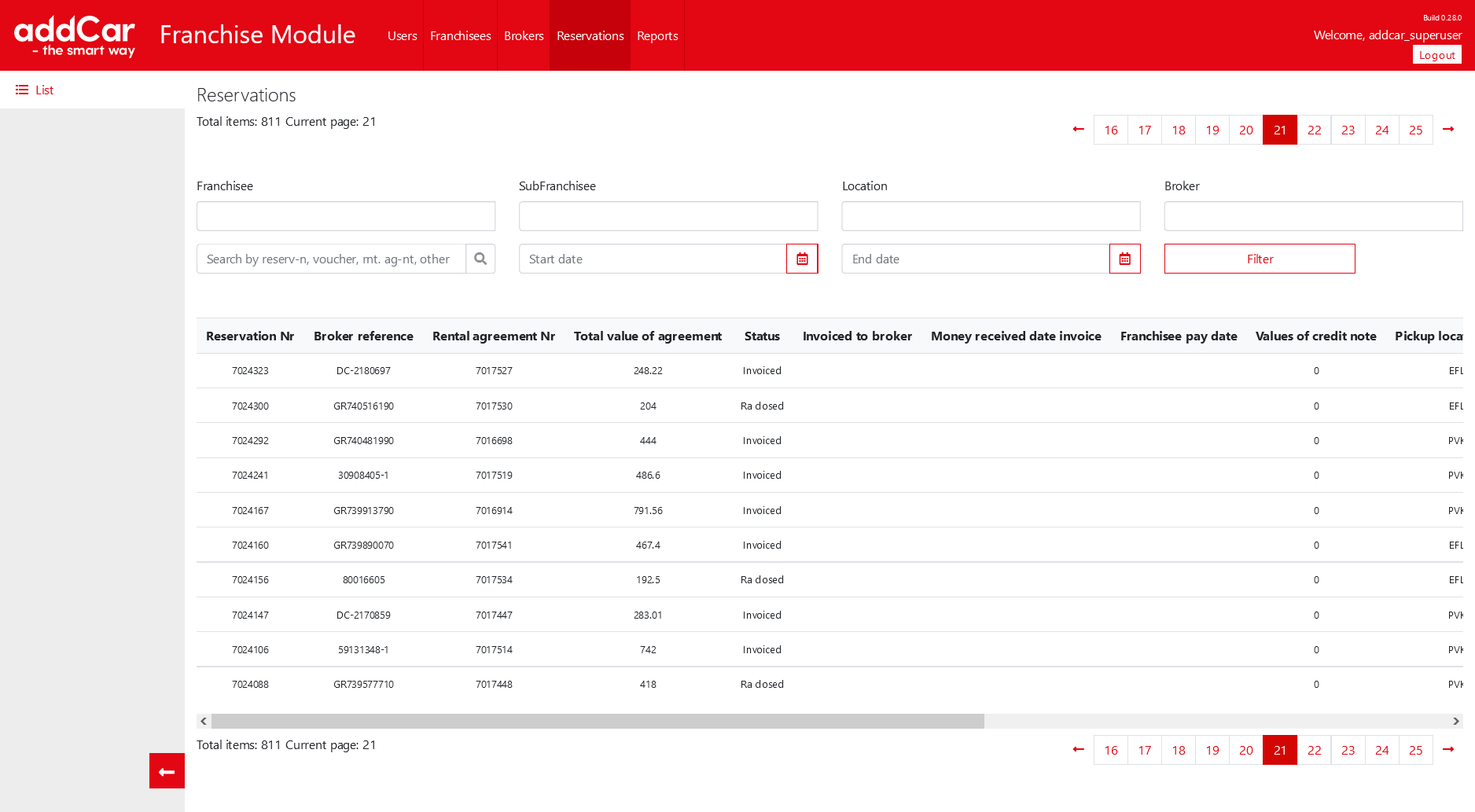 We've developed a stable system which replaced all existing client's applications.
Our operation automation solution designed to automate routine tasks and processes within an organization in the car rental industry. It was used for a variety of purposes, including fleet management, reservation management, customer relationship management, and more.
By automating these processes, then car rental company reduced the time and effort required to manage their operations, freeing up resources that can be invested in other areas of the business.
One of the key benefits of the new solution is the ability to streamline fleet management. With an automated fleet management system, our customer can manage their fleet more efficiently, reducing downtime, improving maintenance schedules, and maximizing the utilization of their vehicles. This can result in a significant reduction in operational costs and a corresponding increase in profitability.
With an automated reservation system, it started to manage customer bookings more efficiently, reducing the time and effort required to process reservations, and improving the overall customer experience. In addition, this software helped to ensure that cars are available for rent when customers need them, reducing the risk of lost business due to unavailability.
The system has many capabilities including reporting functionality, cash flow and dept calculations. Generally speaking, this is a complex system with payments allocation functionality from agents to franchisees and sub-franchisees, including commission calculation and invoicing customers. It seamlessly integrates with the client's accounting system E-Conomic. As a result, the customer's management got access to comprehensive information of their business.

"The outstanding web application has strengthened the capability of the software development company to sell demand forecasting solutions. The Stantum s.r.o team is an expert in collaborating with others and they have great technical proficiency in web development."
Start your project with us!
Our engineers are ready to help you.
Contact us now and we will answer you today.